One Agency North based in the Northern suburbs of WA was launched in April 2018 as partnership between David Snell and Cathy Tran.
David has been in real estate for 15 years and Cathy for five years and together they made the leap into business ownership, backing themselves to succeed with the goal of building a rent roll as a bankable asset.
"We saw a market opportunity primarily in property management for a proactive leasing strategy, one that is highly responsive, has hands on operators who handle matters and attend properties in person," says David. The team made a decision to be proactive not reactive managers.       
The pair worked together for five years prior to opening their own real estate business at a boutique coastal office in North Beach where David was manager. There are two more sales agents in the team, Donna Jackson and Tyson Barry.
David has a degree in both marketing and theology, is also a self-confessed extrovert and not shy of publicity. He's comfortable in front of a camera or talking on radio, in fact he's been a guest on 98.5 Sonshine FM and the agency advertise regularly on the airwaves.
"Real estate is a unique business," says David, "if you want to succeed you've got to love people. Property is the product you're selling, but it's the people you're actually helping to realise their real estate dreams. So you need to understand people, what drives them, to help both the buyer and the seller achieve a win win deal."
David says that there would be no need for a real estate agent if every buyer just paid what the seller wanted. He believes that the key to the role of a real estate agent is in bridging that gap and negotiating through the different expectations of both parties.
"We back ourselves clearly with our radio ads and my marketing background has helped me to identify who our target market will be and we utilise video, social media and traditional marketing to attract numerous, qualified buyers," he says. "We are focusing on property management and building that side of the business, because so many landlords complain that their property managers don't return their calls. We want to challenge that."
One Agency North are forging ahead with a fresh approach to property management and they back their service with an offer that if a landlord doesn't receive a return call within three hours, then they will receive a week of free property management. They also promise to lease a property within three weeks and if they don't then they'll manage the property free for the first three months.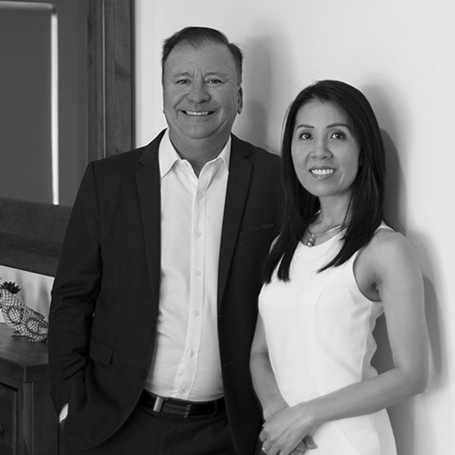 We decided to go with One Agency because the fee structure is fair and reasonable and yet still provides the infrastructure and marketing base to launch quickly into the success zone.
It's a savvy marketing move, and David says, "The phone is ringing with clients identifying with the frustration of non responsive property managers. Our challenge is to now exceed our clients expectations!"  

David has also written a book 'How To Sell Your Home For More' which is available on request via email.

While David is clearly passionate about his work, Cathy Tran is the quiet achiever in this dynamic partnership, she's tenacious, has strong community connections, a huge work ethic and great integrity.
"Our business motto is no gimmicks, just results. We set clear goals to sell homes for more and faster, and in a way that works for each individual homeowner. We work as a team with our vendors, being on the same page from the start is crucial," says Cathy.
The partners considered launching under their own brand, but chose to go with a One Agency license "because of the 'plug in and play' aspect of the business model and the opportunity to be part of a recognised brand with surrounding sister offices providing profile," she said.
David had spoken with Paul Davies (Founder & CEO of One Agency) four years ago and the idea of a One Agency license has been bubbling away since then. A business colleague, Duro Margaretic, had joined One Agency recently, opening his business One Agency Premier in Hillarys WA. It made sense for David to align with another One Agency business and share the strength of the brand.
Once the partners had made that decision to go with the brand rather than starting from scratch, they discussed the options with Duro and his team, and set the goal to build the brand together locally but as individual offices.
"We decided to go with One Agency because the fee structure is fair and reasonable and yet still provides the infrastructure and marketing base to launch quickly into the success zone. Also the founder, Paul Davies, is one of the 'nice guys' of the real estate industry," says David. "His integrity and genuine desire to do the right thing at all times permeates the organisation as a whole."
Contact One Agency North:
T   (08) 6555 7771
E   [email protected]
---

At One Agency we are always open for a conversation and very happy to help if you have any questions, obligation free and in complete confidence, so please contact us. 
T  1300 79 23 88 (Australia)
T  +61 2 8039 2110 (International)

Back to top

Back to top